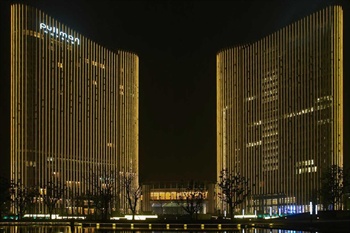 The Pullman Wuxi New Lake (Wuxi Xinhu Boerman Dajiudian) is a deluxe hotel about a 14-minute drive from Shuofang International Airport and a 17-minute from Wuxi South Railway Station.
This Wuxi hotel offers Wi-Fi access in public areas and free parking.
Diners have three restaurants to choose from in this hotel: La Cuisine, which serves a la carte and has an international buffet, specializes in seafood, Asian dishes and desserts; the Chinese restaurant, which offers Jiangsu and Cantonese foods; and The Banzai, where Japanese and Asian dishes are served.
The Pullman hotel is well-equipped to host gatherings, meetings, banquets or other events. Guests who get some free time can knock back a few drinks at the bar or unwind at the on-site spa. If they are feeling energetic, they can head to the gym for some invigorating exercise.